18:48 17 May 2022
At least 7 buses with Ukrainian military left Azovstal under control of russians, mass media report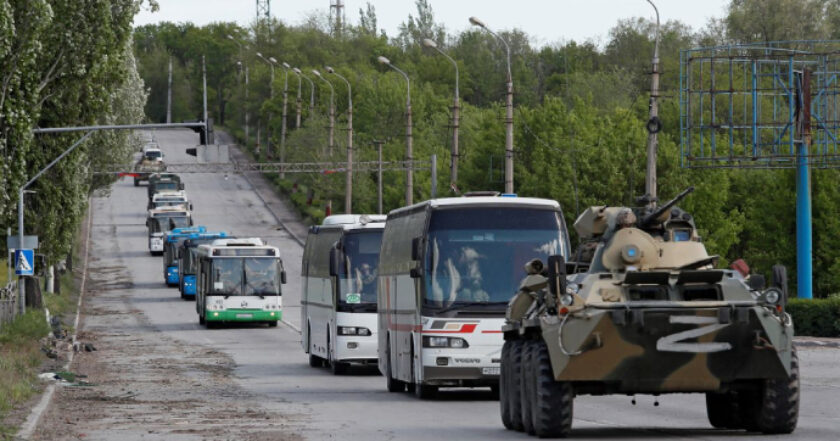 At least 7 buses with Ukrainian defenders under the control of the russian occupiers left the territory of the Azovstal metallurgical plant in Mariupol.
Reuters reports, citing witnesses from the scene.
According to Reuters, some Ukrainian servicemen on the buses showed no visual signs of injury.
The Ukrainian military-political leadership hasn't announced where the defenders of Mariupol are going to be taken. Reuters journalists didn't say where the Ukrainian defenders were being taken.
Earlier, representatives of the Ministry of Defense of Ukraine stated that the defenders of Mariupol were ordered to save the lives of all living servicemen of the garrison.
Note
On the afternoon of April 17, Deputy Defense Minister Hanna Maliar insisted that there was no other way to save the defenders of Mariupol than to evacuate through russian-controlled territory. She assured that the Ukrainian military-political leadership would demand the return of all servicemen to the territory controlled by the Ukrainian government.
On May 16, russia's defense ministry announced that an agreement had been reached to evacuate wounded Ukrainian servicemen from the blocked Azovstal plant in Mariupol to the occupied territories.
Later, the Azov Regiment commander, Denys Prokopenko, stated that the defenders of Mariupol had fulfilled their task and that he wanted to save the lives of his subordinates.
Late at night on May 16, President Volodymyr Zelensky explained that Ukraine needed the Heroes of Mariupol alive, so it was decided to evacuate them in cooperation with the UN and the ICRC. Earlier, Deputy Prime Minister Iryna Vereshchuk said that negotiations were underway to sign an agreement mediated by Turkey on the safe exit of Ukrainian defenders from the territory of Azovstal.
On May 8, during an online conference, Illia Samoilenko, an intelligence officer with the Azov National Guard Regiment, expressed confidence that they would all be killed if they surrendered to the russians. He added that the russians were ready to say goodbye to them at the first opportunity and that russia considered Azov a terrorist organization.