12:14 17 May 2022
Deputy PM Vereshchuk on situation with 52 seriously wounded servicemen evacuated from Azovstal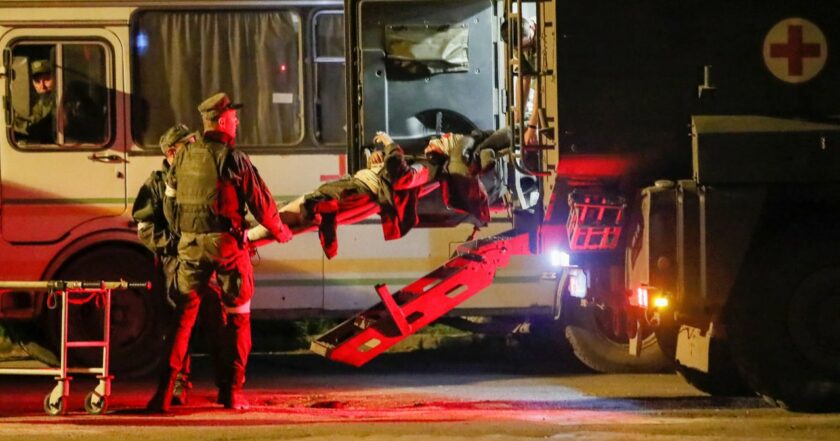 On the eve of May 16, 52 seriously wounded Ukrainian servicemen were evacuated from Azovstal
This was announced by Reintegration Minister Iryna Vereshchuk, Rubryka reports.
According to the head of the ministry, they should be exchanged for russians.
According to Vereshchuk, the exchange of Ukrainian wounded and russian prisoners will take place after the stabilization of the Ukrainian fighters.
The Minister stressed that the authorities were working on the next stages of the humanitarian operation.
As Rubryka reported, 53 seriously wounded Azovstal fighters were evacuated to the temporarily occupied Novoazovsk.
Another 211 soldiers were evacuated through a humanitarian corridor to the temporarily occupied Olenivka.
However, Vereshchuk did not report the evacuation of 211 servicemen.
The press service of the National Guard published photos of wounded soldiers who were taken out of Azovstal.
As Rubryka reported, on May 16, buses with Ukrainian servicemen left the territory of the Azovstal plant in Mariupol.
Earlier, the Azov Regiment stated that the defenders of Mariupol obeyed the order, delayed the overwhelming forces of the enemy for 82 days, and allowed the Ukrainian army to regroup.
Note
Mariupol was blocked by russian troops almost at the beginning of the war, on March 1, 2022.
Since the end of April, Ukrainian defenders of Mariupol have been blocked at the Azovstal plant: representatives of the Azov National Guard regiment, marines, border guards, and police.
Civilians were evacuated from the plant, but russia rejects all options for evacuating the fighters, although Turkey is ready to take them out by sea and guaranteed that they would not take part in hostilities in Ukraine until the end of the war.
About 600 wounded people remain in the dungeons of the Azovstal plant, which is being stormed by the russian military, in unsanitary conditions, without medicine, water, and food.
Ukrainian authorities have said they are trying to agree on the evacuation of at least 60 of the heaviest cases.